Dit evenement is voorbij.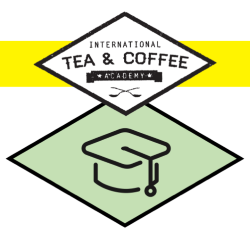 Masterclass Taiwan door Nicoletta Tul *VOL*
zondag 10 april 2022 @ 10:00

-

12:00

|

€ 133,10
| | |
| --- | --- |
| Masterclass Taiwan door Nicoletta Tul *VOL* | |
Algemeen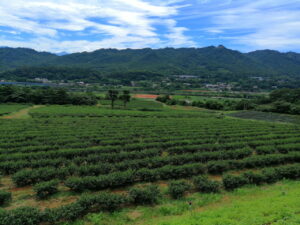 Volg drie webinars over het theeland Taiwan georganiseerd door Nicoletta Tul. Leer meer over wat de thee uit dit land zo bijzonder maakt!
Onderdeel van deze webinars is een pakket met 8 bijzondere theeën die we tijdens de sessies gaan proeven. Deze thee is beperkt beschikbaar, daarom is er een maximum van 35 deelnemers voor dit webinar.
De drie webinars vinden plaats op zondagochtend 10 april, 24 april en 15 mei van 10:00 tot ongeveer 12:00 via Zoom en zijn in het Engels.
Omdat Nicoletta de thee opstuurt vanuit Italië sluit de inschrijving op 27 maart. De thee ontvang je vlak voor de eerste sessie.
Kosten
Het volgen van de drie informatieve webinars inclusief thee: € 110,00 excl. btw (€ 133,10 incl. btw).
Programma
10 april: Introduction to Taiwanese tea
Taiwan is the tea island, devoted to a deep tea culture and ancient Chinese traditions.
We will travel the island of Formosa discovering different terroirs, tea plants and cultivars used for different kinds of teas, tea production and tea styles, from greens to Gaoshan, traditional oolongs, red and black.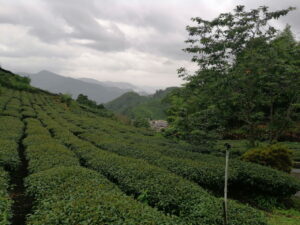 We'll discover local brewing styles and taste 3 different teas. First a classical but rare tea first, a Jin xuan gaoshan but from a Shanlinxi organic farm at 1800m, creamy, soft and with a clear and pure aroma. Next a Sijichun oolong from Nantou, 600 m, very sweet, fruity and flowery. And finish with a rare and delicious Alishan hong cha from Qingxin cultivar, processed like a red tea but from an oolong spring harvest, fruity and sweet with a chocolate aroma, 1600m.

24 april: Bitten and rare teas from Taiwan
During this session we'll discover how the bite of a small leafhopper called Empoasca can change the chemistry of the leaf and the aromas and body of teas.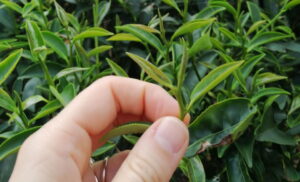 The best bitten teas are produced in Taiwan, starting from oriental beauty. One of the great masters of this tea is master Lin from Taoyuan, tasting his unique teas we'll realize how the chemical components of the bitten leaf can be used during whitering and oxidation to enhance the floral, fruity or muscatel aromas. Oxidation and long term whitering can also change and complex chemical components creating an "esters rich bouquet"
We'll start with a Sijichun baicha white tea from winter crop, incredibly crisp, flowery and creamy from Nantou, 600 m. We'll go on with a master Lin's Oriental Beauty from Taoyuan and we'll finish with an unique tea, a huge yellow pomelo stuffed with a Shanlinxi gaoshan, an aged tea since 2010.
15 mei: Taiwanese Tanbei roasting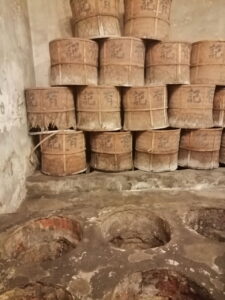 Tanbei is the name for the traditional charcoal roasting of tea with longan wood. Why do some teas go to roasting process and others are left fresh and unroasted? How are roasting choices made based on the type of tea?
We will study the different types of roasting, roasting cooking levels, the artisanal processing, the woods used for charcoal and we'll discover how Tanbei can enhance some aromatic notes and give a lot of energy to tea.
We'll taste two different oolongs from famous tanbei masters: we'll start with a very classical dongding from Nantou but with a low roasting level and a great peachy aroma and we'll finish with a real masterpiece, a Medium roast qingxin from Master Liang, one of the best tanbei roasters of Asia.
About Nicoletta Tul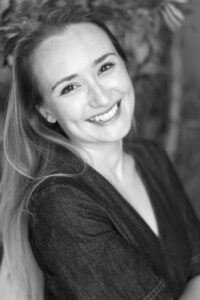 Nicoletta Tul, certified THAC Tea Sommelier and Certified Professional Tea Taster for the Chinese government, I have been working with Tea for almost fifteen years and for six years I have been based in my shop /atelier "La Finestra sul Tè" in Padua where I collect high quality tea from all over the world.
After graduating in Agricultural Biotechnology with a thesis on the biochemical characteristics of Tea, at the University of Padua, I began my training in Asia, visiting farmers, producers, masters and technicians of Tea. I have studied the art of tasting, tea ceremonies and rituals in Japan, Korea, China and Southeast Asia.
I am an international judge in TeaMasters Cup competitions since 2018, in the Tea preparation, food pairing and mixology categories.
In 2020 I have published my first book, "La Finestra sul Tè. The ultimate guide to Tea".
I have been teaching for years at schools and academies in Italy and abroad, offering specific Masterclasses dedicated to my great passion. I organize specific Tea Tours in producing countries, visiting and living in close contact with farmers, producers and masters mostly in Japan, Korea and Taiwan.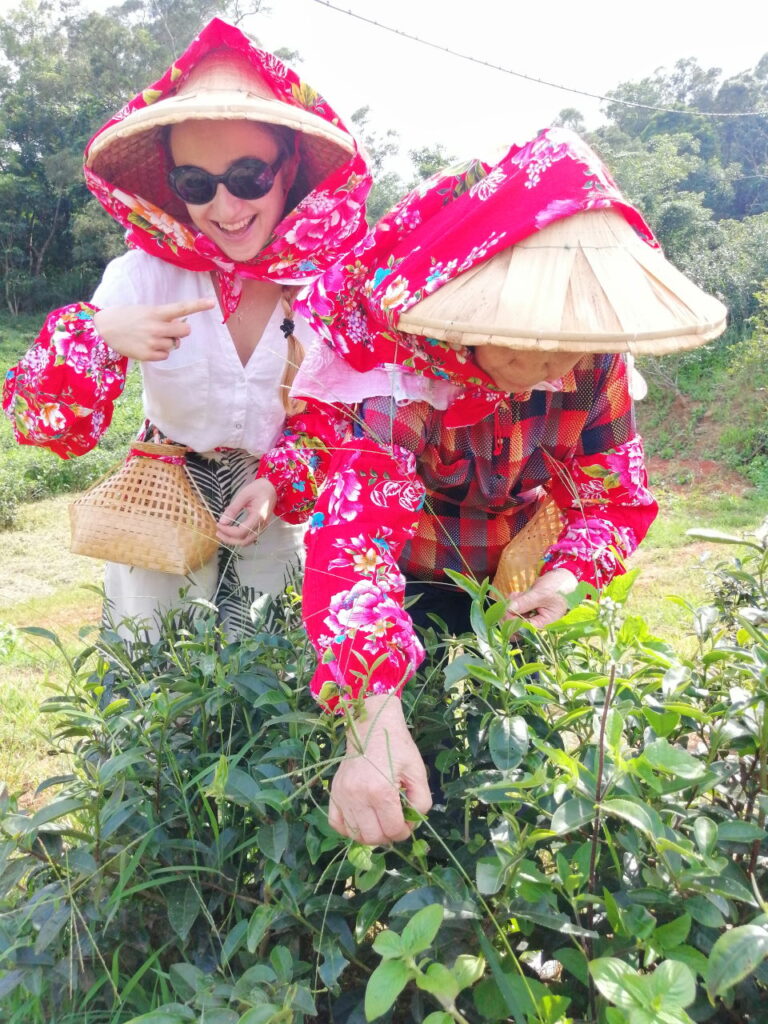 Beoordeling van deze training door onze cursisten
(8)
Martine
21 mei 2022
Een genot op zondagochtend... Wegdromen naar Taiwan en zijn diverse theeën, en dat gedeeld met een groep theeliefhebbers. Nicoletta bracht tijdens de sessies heel veel gedetailleerde kennis over de thee van dit mooie eiland, natuurlijk oolongs in diverse soorten maar ook prachtige zwarte thee. Daarnaast was er veel ruimte voor vragen en natuurlijk proeven. Diverse smaken en geuren, waaronder een aantal die ik nog niet eerder ben tegen gekomen. Dank voor de mogelijkheid deze Masterclass te kunnen volgen!
Joke
17 mei 2022
Mooie verdieping op smaakbibliotheek en kennis. Nicoletta is enthousiast en heel deskundig.
Vraag me even af of het makkelijker te volgen zou zijn als we leerstof vooraf krijgen. Dan heeft het zetten en proeven alle aandacht.
Wilma Prins-de Bruijn - -
16 mei 2022
Ben zeer enthousiast over deze goed gegeven webinar. Heel interessant en met veel diepgang. Heb veel geleerd en de toegestuurde thees waren heel bijzonder. Smaakt letterlijk en figuurlijk naar meer!
Heel fijn dat de webinar later ook nog eens terug te kijken is.
Yvonne Lagas-Sondermeijer
16 mei 2022
Nicoletta kan veel unieke kennis over thee op een boeiende manier overbrengen. Ze vertelt op een prettige manier, waardoor je graag naar haar luistert en de tijd voorbij vliegt. Wanneer zij een nieuwe Masterclass geeft, zal ik mij daar graag weer voor inschrijven.
Miranda
16 mei 2022
Hele informatieve masterclass van een trainer met ontzettend veel kennis van zaken! Fijn dat er digitale mogelijkheden zijn om die kennis op deze manier op te kunnen doen en vooral ook te gek om zulke mooie theesoorten met elkaar te proeven. Op een aantal punten werd erg snel door een hoop 'technische termen' gegaan; daar had wat mij betreft nog wel wat langer bij stil gestaan mogen worden om echt de diepte met elkaar in te gaan en het toch goed te kunnen blijven volgen, alhoewel dat digitaal ook weer een grote uitdaging is.
Joyce van der Zalm
16 mei 2022
Nicoletta heeft een duidelijke opbouw in haar masterclass en in haar lessen. Ze haalt de kennis van vorige keer even terug en blikt aan het begin van de les vooruit. Ze legt duidelijk en helder uit. Ze reageert adequaat op vragen zonder van de les af te wijken. De bijbehorende theeën waren bijzonder en weg lekker. Deze masterclass is aan te raden voor iedereen die een stukje verdieping wil.
Pita Vandevelde - Les ateliers P. De B.
16 mei 2022
Delen op social media?