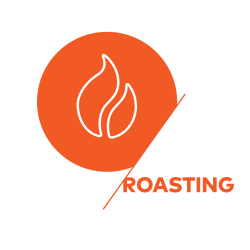 SCA Roasting Foundation
Thursday November 4 2021 @ 10:00 AM

-

5:00 PM

|

€ 395,67
| | |
| --- | --- |
| SCA Roasting Foundation | |
General
Are you looking for a training to start your journey in the beautiful world of coffee roasting? Or are you a Barista and do you want to be able to understand your coffee roaster or supplier? Then the SCA Roasting Foundation training from ITC Academy is perfect for you! After successfully passing your exam you can apply for the SCA Certificate Roasting Foundation.

We introduce you to the coffee roasting process. You stand at the burner yourself and gain insight into all elements of the profession. We work with small groups of up to 4 participants during this training.
Duration
One day (7 hours). We start at 10 am, we finish at 5 pm.
Preliminary training
This course is designed to introduce roasting to people who have had no previous training.
Cost
Training: € 327,00 excl. VAT (€ 395,67 incl. VAT) (including training materials and lunch)
Certificate: € 60,00 excl. VAT (€ 72,60 incl. VAT)
Training materials
No additional training materials are required for this training. A work or internship place at a coffee roaster would be fantastic!
For whom?
Coffee roasters that have practical experience but no theoretical foundation, coffee sellers who want to have more insight into the product they are selling, coffee buyers, upcoming coffee roasters who want to discover whether the profession of roasting coffee is something for them. Baristas who want to understand their coffee roaster or supplier. Individuals who want to get the most out of their coffee hobby. Because whether you burn on a 35 kilo or 500 gram burner, the principle remains the same!
Examination
The exam follows immediately after the training. The exam consists of a theoretical test consisting of 15 questions and a practical test consisting of four parts. With the knowledge you gain during the course day, you are able to pass the practical exam.
Specialty Coffee Association (SCA)
The Specialty Coffee Association (SCA) has created the Coffee Skills Program. This program consists of five different modules: Barista Skills, Brewing, Green Coffee, Sensory Skills and Roasting. Each module is offered at three levels: foundation, intermediate and professional. All modules are concluded with a practical and theoretical exam. On successful completion of a module an internationally accepted certificate can be requested. For more information about the certification system, please visit the SCA website.
Program
You will learn…
which factors are important in controlling the temperature during roasting;
which points are crucial during the roasting process and how you recognize them;
what the roasting cycles look like, how you can control it and what influence the cycle has on taste;
how you can change taste during the roasting process;
record the information about the roasting process;
how to keep the roaster clean;
the importance of safety when roasting coffee;
what you should do when there is a fire in your burner;
how to prevent and fight a fire.
Further training
Tastes like more? You might want to take a look at the following courses:
Beoordeling van deze training door onze cursisten
(5)
Markus Hirschkopf
5 June 2021
Annelise Scholl - Grounds Costa Rica
4 June 2021
Het was een erg geslaagde dag. Het lokaal is heerlijk licht en ruim. De verscheidenheid aan beschikbare tools is geweldig. Ik vond het fantastisch dat we eerst op een Aillio bullet zijn begonnen met branden en daarna op een Giesen. Paul is een kenner en kan het onderwerp gemakkelijk doorgeven aan anderen. Gezellig, leuk en verrijkend! Dank jullie wel!
Julie Devinck - Supremo NV
4 June 2021
Good presentation , much practical training
Ma. Gabriela Sequeira Alfaro - COMO
17 November 2020
Maurycy Swieczak - Moyee Coffee
12 November 2020
Delen op social media?