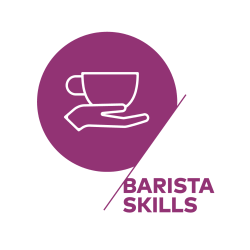 SCA Barista Skills Foundation
Tuesday December 14 2021 @ 10:00 AM

-

5:00 PM

|

€ 274,67
| | |
| --- | --- |
| SCA Barista Skills Foundation | |
General
Do you want to work as Barista or are you a huge coffee lover and would you like to expand your knowledge? With the SCA Barista Skills Foundation training you gain a solid foundation for your further career in coffee! This training is accredited by the SVH and, after completing your exam, you can apply for the internationally recognized SCA certificate.

After discussing the theoretical foundation the day will be mainly filled with practicing. In the theoretical section we explain differences between coffee beans, how extraction works, which methods there are to make espresso and discuss hygiene in the workplace. By experimenting a lot you learn to recognize the difference between sour, bitter, strong and weak. During practice you will operate the espresso machine yourself.

In short: A day with crucial background knowledge and lots and lots of experimentation and practice!
Duration
One day (7 hours). We start at 10 am, we finish at 5 pm.
Preliminary training
This course is designed to introduce basic barista skills to people who have had no previous training.
Cost
Training: € 227,00 excl. VAT (€ 274,67 incl. VAT) (including training materials and lunch)
Certificate: € 60,00 excl. VAT (€ 72,60 incl. VAT)
Training materials
It is essential to be able to practice at home/work. If you do not have an espresso machine to work with at home or at work, try to find a bar or restaurant in your neighborhood to practice. ITC Academy offers planned evenings to practice at our training center for those who have no espresso machine at their disposal.
For whom?
Coffee roasters, buyers, vendors, employees working with coffee, private individuals who would like to learn basic barista skills.

This training has been developed to introduce the basic skills of a Barista to people who have not yet followed a Barista training.
Examination
The SCA Barista Skills Foundation exam is held on a later date. This date will be determined, depending on the time you need to practice. The exam lasts about 1.5 hours and consists of a theory and a practical part. Are you ready for the exam? Please contact us to schedule your exam. We have scheduled regular examination evenings in both Zeewolde and The Hague every month.
Specialty Coffee Association (SCA)
The Specialty Coffee Association (SCA) has created the Coffee Skills Program. This program consists of five different modules: Barista Skills, Brewing, Green Coffee, Sensory Skills and Roasting. Each module is offered at three levels: foundation, intermediate and professional. All modules are concluded with a practical and theoretical exam. On successful completion of a module an internationally accepted certificate can be requested. For more information about the certification system, please visit the SCA website.
Program
During the day we will switch between theory, experiments and practice.

Theory

You will learn…
the difference between Arabica and Robusta coffeebeans;
the importance of fresh beans;
how to store coffee properly;
the names and parts of the coffee grinder and the espressomachine;
why whole milk is important;
how to comply with the official food regulations.
Practical
You will learn…
distinguishing the flavors sour, bitter, strong and weak;

which steps are required to make a good espresso;

recognize and resolve over-extraction and under-extraction;

how to froth milk and make cappuccino and latte;

how to adjust the coffee grinder;
how to correctly use a tamper;
working hygienic and clean in your workplace;
the importance of cleaning an espressomachine.
Further training
Tastes like more? You might want to take a look at the following courses:
Beoordeling van deze training door onze cursisten
(5)
Martin Scheepbouwer
14 September 2021
Paul is een topper!
Christian Cesar Kamp - Knaap Zwartendijk B.V.
5 January 2021
Esmee Koopman
10 December 2020
Wat een super training is dit! Ontzettend leuke uitleg, goede afwisseling tussen leren en doen en een flexibel meedenkende organisatie. Echt een aanrader
Yoko
8 December 2020
It was fun and interesting.
I learned a lot of things about coffee.
Thank you.
Gordon Laing
8 December 2020
Delen op social media?