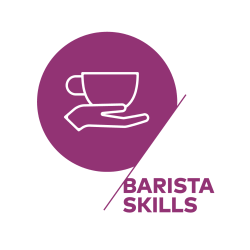 SCA Barista Skills Foundation
Monday May 22 2023 @ 10:00 AM

-

5:00 PM

|

€ 298,87
| | |
| --- | --- |
| SCA Barista Skills Foundation | |
General
Do you want to work as Barista or are you a huge coffee lover and would you like to expand your knowledge? With the SCA Barista Skills Foundation training you gain a solid foundation for your further career in coffee! This training is accredited by the SVH and, after completing your exam, you can apply for the internationally recognized SCA certificate.

After discussing the theoretical foundation the day will be mainly filled with practicing. In the theoretical section we explain differences between coffee beans, how extraction works, which methods there are to make espresso and discuss hygiene in the workplace. By experimenting a lot you learn to recognize the difference between sour, bitter, strong and weak. During practice you will operate the espresso machine yourself.

In short: A day with crucial background knowledge and lots and lots of experimentation and practice!
Duration
One day (7 hours). We start at 10 am, we finish at 5 pm.
Preliminary training
This course is designed to introduce basic barista skills to people who have had no previous training.
Cost
Training: € 247,00 excl. VAT (€ 298,87 incl. VAT) (including training materials and lunch)
Certificate (optional): € 70,00 excl. VAT (€ 84,70 incl. VAT)
Training materials
No additional training materials are required for this training.
For whom?
Coffee roasters, buyers, vendors, employees working with coffee, private individuals who would like to learn basic barista skills.

This training has been developed to introduce the basic skills of a Barista to people who have not yet followed a Barista training.
Examination
At the end of the day we evaluate your knowledge and skills. Have you successfully completed the day and do you also want to obtain the SCA certificate? Then you can take the SCA theory exam at home after the day's training. With the knowledge you gained during the course day, you will be able to pass the theory exam.
Read our Dutch SCA page for more information.
Specialty Coffee Association (SCA)
The Specialty Coffee Association (SCA) has created the Coffee Skills Program. This program consists of five different modules: Barista Skills, Brewing, Green Coffee, Sensory Skills and Roasting. Each module is offered at three levels: foundation, intermediate and professional. All modules are concluded with a practical and theoretical exam. On successful completion of a module an internationally accepted certificate can be requested. For more information about the certification system, please visit the SCA website.
Program
During the day we will switch between theory, experiments and practice.

Theory

You will learn…
the difference between Arabica and Robusta coffeebeans;
the importance of fresh beans;
how to store coffee properly;
the names and parts of the coffee grinder and the espressomachine;
why whole milk is important;
how to comply with the official food regulations.
Practical
You will learn…
distinguishing the flavors sour, bitter, strong and weak;

which steps are required to make a good espresso;

recognize and resolve over-extraction and under-extraction;

how to froth milk and make cappuccino and latte;

how to adjust the coffee grinder;
how to correctly use a tamper;
working hygienic and clean in your workplace;
the importance of cleaning an espressomachine.
Further training
Tastes like more? You might want to take a look at the following courses:
Beoordeling van deze training door onze cursisten
(72)
Anoniem
29 November 2022
Fijne lokatie (aanduiding/route omschrijving in het pand mag wat duidelijker ;-)), fijne enthousiaste docent die rust maar ook energie en deskundigheid uitstraalt, ik vond de kleine groep erg prettig. Goede balans tussen theorie en praktijk. Voldoende tijd om vragen te stellen en een gesprek met elkaar te hebben.
Darren Bishop
25 November 2022
The training was fantastic! The instructor was extremely knowledgeable and was really great to work with. He was incredibly passionate about coffee and it really showed throughout the experience. Highly recommend.
Marthe
25 November 2022
Superleuke, afwisselende basistraining door een deskundige trainer met duidelijk veel ervaring. Na het volgen van deze training weet ik hoe ik de (voor mij) perfecte espresso maak en weet ik beter hoe ik melk opschuim voor een mooie cappuccino.
André de Gans
21 November 2022
Duidelijk veel kennis van de trainer. leuke sfeer
Crystel Herrera - Nicaraguan Specialty Coffees
29 September 2022
Mees Haegens
28 September 2022
Zeer leuke en leerzame cursus, ze nemen echt de tijd voor je als er iets niet lukt / als je iets niet snapt.
Zeker een aanrader.
Kristine Towikromo - NVT
28 September 2022
Ik vond het een hele interessante training, goed verzorgd, goed om vooraf de presentatie te volgen.
Vragen die de trainer gedurende de les stelde aan de kandidaten was goed, is meteen oefenen.
Had meer latte art willen proberen omdat ik niet dagelijks werk met de verschillende apparaten.
het Stomen van de melk was best challenging,
De trainer vond ik sympathiek, helder, goed benaderbaar en erg skillvol, ze kan zo goed uitleggen en ze nam mij letterlijk bij de hand. Erg A+
Allard Jacobsen
30 June 2022
Mooi compleet, professionele trainer en top apparatuur
Yumaira Martinez Avila - Tea & Nature
26 June 2022
Tessa
19 June 2022
We kregen als groep veel informatie en er was ruimte om ervaringen uit te wisselen. Een uitstekende eerste kennismakig met de foundation van Barrista
Bekijk alle beoordelingen.
Delen op social media?